BOA® systems invented a pretty remarkable way to tighten just about anything that needs to be tough, durable, and user-friendly.  BOA dial connectors are used on everything from boots, to snowboard bindings, to medical equipment, to advanced military combat helmets.  TRUGLO partnered with BOA Systems many years ago, bringing this technology (and patenting it) to the world of archery wrist releases. The BOA connection system is superior to buckle and Velcro wrist strap designs. It is every bit as strong, but more comfortable and infinitely more adjustable. Especially important in the in the nature of wrist straps is the easy one-hand adjustment; no more holding your wrist release in place against your chest, your thigh, or a table while you fiddle with the buckle. Just push in the button and turn it to tighten until it is snug.
 Using the BOA® System
The BOA connection system allows for infinite adjustment, fitting shooters of all sizes and adapting to different clothing.
To loosen, pull outward on the BOA knob. It will "pop" into an unlocked position and freely open.
To tighten, push inward on the BOA knob. It will "pop" into the locked position. Turning the knob clockwise will engage the racheting system and tighten the strap.
Do not dissassemble, remove, or modify the BOA system. There are no user-serviceable parts inside.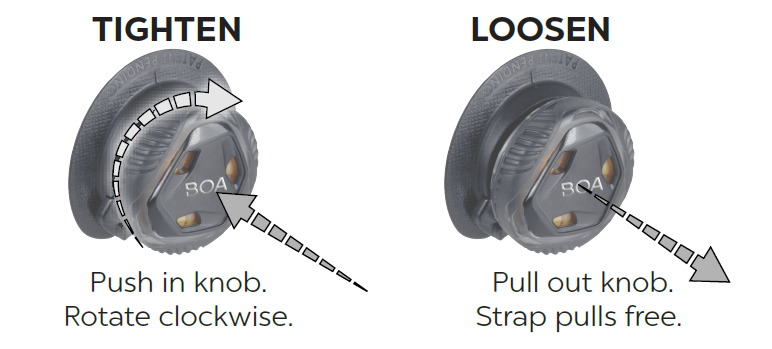 MODELS
Because we believe the BOA system is vital improvement to the way archers use wrist-strap release aids, the BOA system is available on all models of TRUGLO releases.  The NITRUS™ uses a stainless steel caliper style dual-jaw design, and is available with a solid stainless yoke connection or a flexible nylon strap. The DETONATOR™ has the same connection options, but is a single rotating hook design.  The ACTIVATOR™ is a mechanically simplified version of the NITRUS™ dual-caliper design, using only one moving jaw, and on flat not moving jaw. The SPEED•SHOT™ XS and SPEED•SHOT™ XS Jr. are great for beginning archers and shooters with smaller wrists. These are the most affordable way to get into the sport with a quality wrist release. These are offered with a hook and loop (Velcro) connection system, but of course can also be ordered with the BOA connection system.
If none of these models are exactly what you need, or you already have a release head that you love, TRUGLO also makes the TRU•FIT™ universal replacement release wrist strap. This BOA wrist strap uses a versatile connection system that allows you to turn just about any release on the market into a BOA release.